Pin It
Who doesn't worship this woman? She must be so exhausted from everyone complimenting her nonstop. Unfortunately for her, I am one of the millions that would die to breathe her discarded air, which shows how healthy my mental state is.
Kelly looks like this....
Thanks to her stylish and magnificent wonderful designer-ness, the images saved to my desktop have looked like this....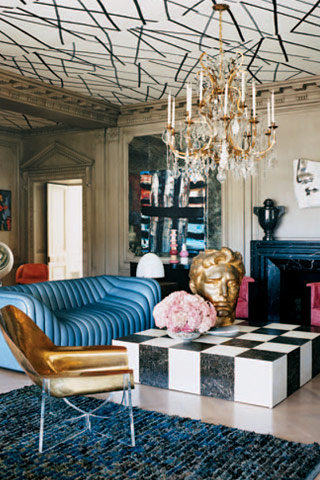 So, my hallway used to look like this.....
This brown paint color was all like; " I'm traditional and normal" and the rest of the stuff in my house was all like; "I'm totally contemporary and random," and I was like; "hey break it up guys, no fighting." Obviously I had to do something because this was getting out of control.
So then my hallway looked like this......
I decided to free hand the design in my favorite dark color; Down Pipe by
Farrow and Ball
.
I try to tell Andy that he shouldn't leave me alone at the house for long periods of time because then things happen like this....
I free handed the design over the chair rail molding because I do what I want and I'm an adult, just like
Miley Cyrus
.
I decided to continue the pattern over the ceiling and over the top of the door that opens to the attic.
Then I used 1" painters tape and taped over the top of the free handed design.
My stepkid was like "this is so awesome it's going to look so cool" which totally made my YEAR because normally my relationship with him looks like this....
He's all like "get off me" in this picture and I'm all like; "I LOVE YOU!!"
I painted over the tape with more Down Pipe to prevent any bleeding.
Next I painted two coats of
Decorator's White
by Ben Moore over everything. I used the same white in the rest of the house so it was a no brainer.
Then I started peeling the tape, which by the way is the most therapeutic thing I have done in years. I was in the house by myself and literally screaming with excitement the whole time, I only mildly freaked out my dogs. They might need therapy now.
Special thanks to the
DesignSponge
tutorial for the help and inspiration.